Wednesday, July 19th, 2017 |

11:00am

-

1:30pm
Enjoy a tour with lunch in the elegant and enchanted setting of Cranbrook House. The historic English-Tudor estate was designed in the Arts & Crafts style for the founders of Cranbrook, George and Ellen Booth. Docents will introduce you to the Booth story as they highlight beautiful furnishings, tapestries, and paintings by world class artists along the way. 
A Peak at Some of the Rooms You'll Tour
The Library is the largest room in Cranbrook House and is truly the centerpiece of George Booth's devotion to the Arts and Crafts movement. Featuring hand-carved walls, hand-woven tapestries, hand-made furniture, and many hand-bound books in its collection of over 6,000 titles!
Mr. Booth's Original Office
George Booth often met and conducted business with farm supervisors, gardeners, and others in his original office before the west wing addition in 1918; at which time it was converted to a "morning room" for Ellen Booth. In 1993, the Auxiliary restored the room to the way it looked when the family moved into Cranbrook House.
The Oak Room is named for its oak paneling, hand-carved in a linen fold under the direction of woodcarver, John Kirchmayer. Cartouches surround the perimeter of the uppermost portion of the walls commemorating important Booth and Cranbrook-related events. An elaborate Tudor Rose ceiling completes the room.
Lunch Menu
The following items are included with lunch:
Assorted breads and dinner rolls, chef's selection of one cold pasta salad and dessert, and a demi salad buffet.

Demi Salad Buffet
Spring Greens, Hearts of Romaine
Chicken Cherry Salad, Tuna Salad, Hard Boiled Eggs
Chopped Turkey, Chopped Ham, Sliced Tomatoes, Sliced Cucumbers 
Chopped Onions, Olives, Housemade Croutons
Red Wine Herb Vinaigrette & Herb Ranch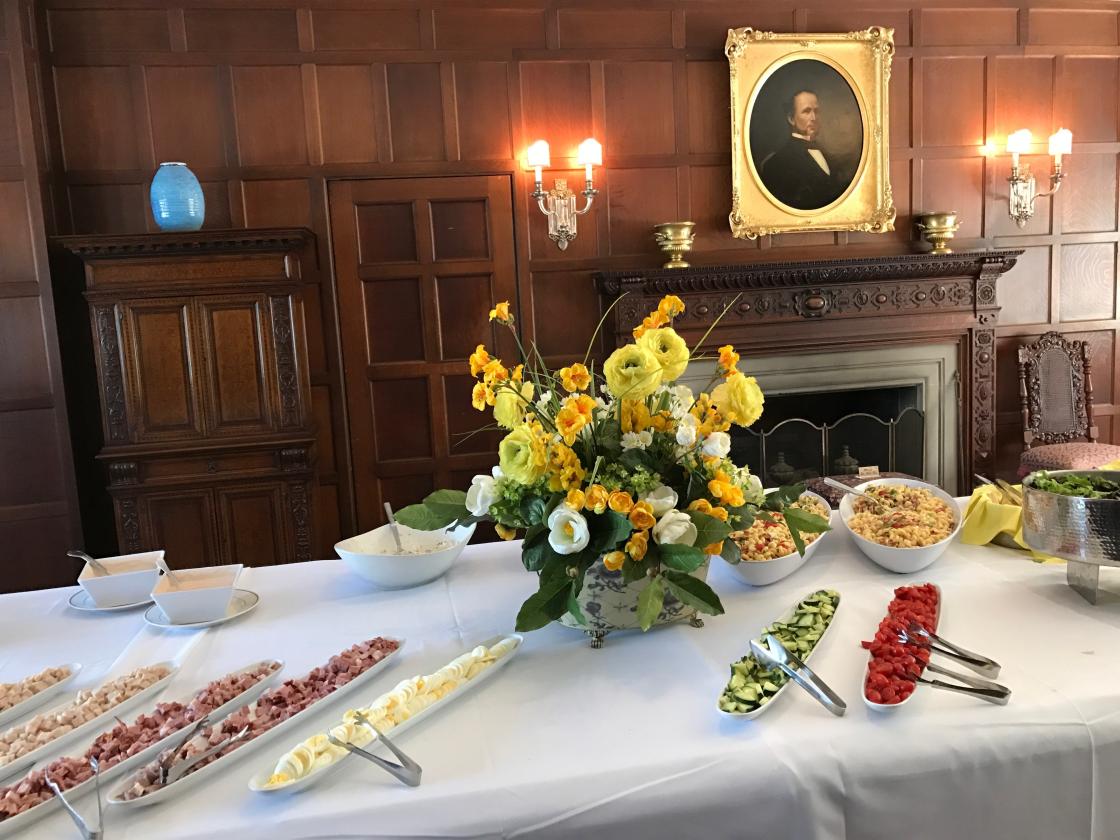 To ensure an enjoyable visit, please review our Tour Info page - for useful information on the check-in process, restroom location and more - before your arrival date.
Reservations
To make a reservation, please click the "Register For This Event" button below or call us at 248.645.3149. Advance reservations are required.

Adults: $32
Seniors (60+), Students with ID, and Active Duty Military: $30
Cranbrook House & Gardens Auxiliary Members: $22
Registration for this event has closed.