Cranbrook Gardens: What to See
Cranbrook Gardens is home to over 20 gardens on a 40-acre site surrounding Cranbrook House. Below is an overview of some of the highlights you will see on a visit to Cranbrook Gardens. The gardens are always evolving and plantings may vary from what is listed below. To learn more about Cranbrook Gardens, we encourage you to join us on a guided tour.
Sunken Garden
The Sunken Garden is a favorite of many visitors. Each spring near Memorial Day Weekend, Cranbrook House & Gardens Auxiliary volunteers create a work of botanical art in this garden through distinctive patterns and color combinations. 
The beds along the fieldstone walls are planted in a traditional English long border style with a variety of perennials that provide color and interest all season long.
In 2023, the annuals in the four center rows will be planted in a new color palette consisting of purple, orchid, hot pink, and white SunPatiens accented by Victoria Blue Salvia. Our volunteer gardeners are planning to plant the Sunken Garden on May 25 and 26, 2023. A combination of about 2,000 flowers will be used for the design!
The Sunken Garden annuals will be cut down and used to enrich the soil the first week of October.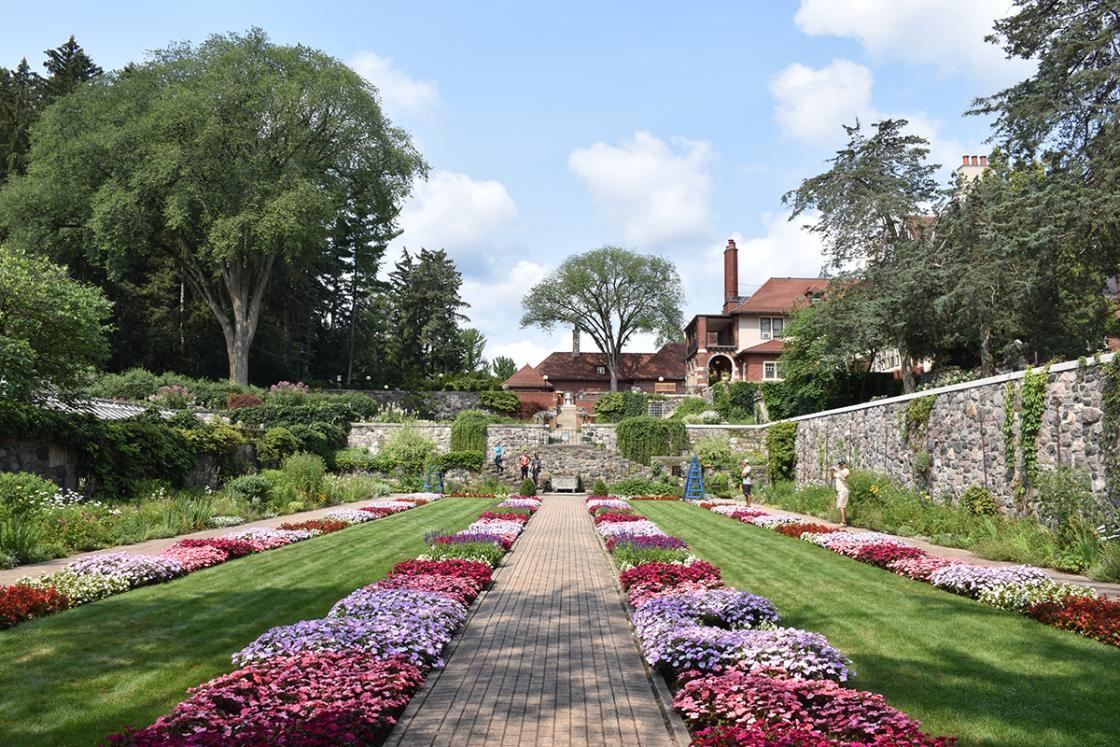 Butterfly Garden
Planted in 2018, the Butterfly Garden is the newest addition to Cranbrook Gardens. The Butterfly Garden provides milkweed, nectar sources, and shelter needed to sustain monarch butterflies as they migrate through North America. The site is certified and registered as an official Monarch Waystation by Monarch Watch.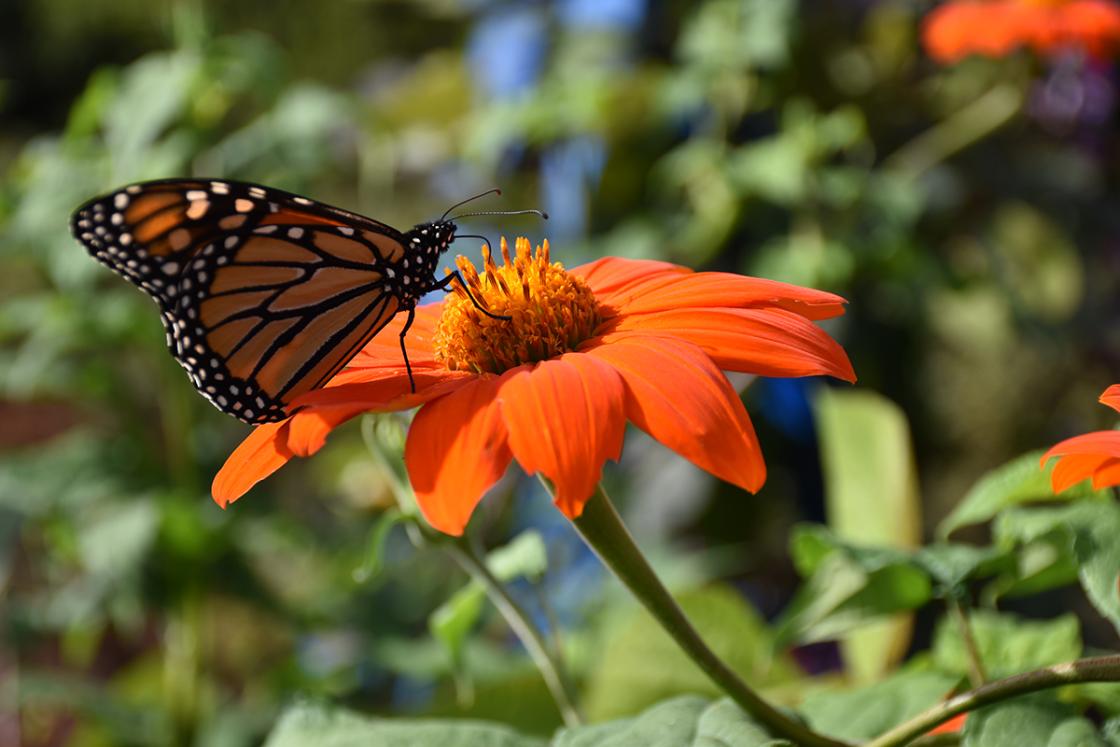 Japanese Garden
One of the oldest Japanese Gardens in North American, Cranbrook's Japanese Garden provides a place of peacefulness and natural beauty. There are many interesting trees and shrubs (including mature Japanese Maples that are spectacular), and large areas of big leaf Petasities, purple Liriope, and some Tree Peonies. To learn more about the history and rehabilitation of the Japanese Garden, please visit the Cranbrook Center for Collections and Research website.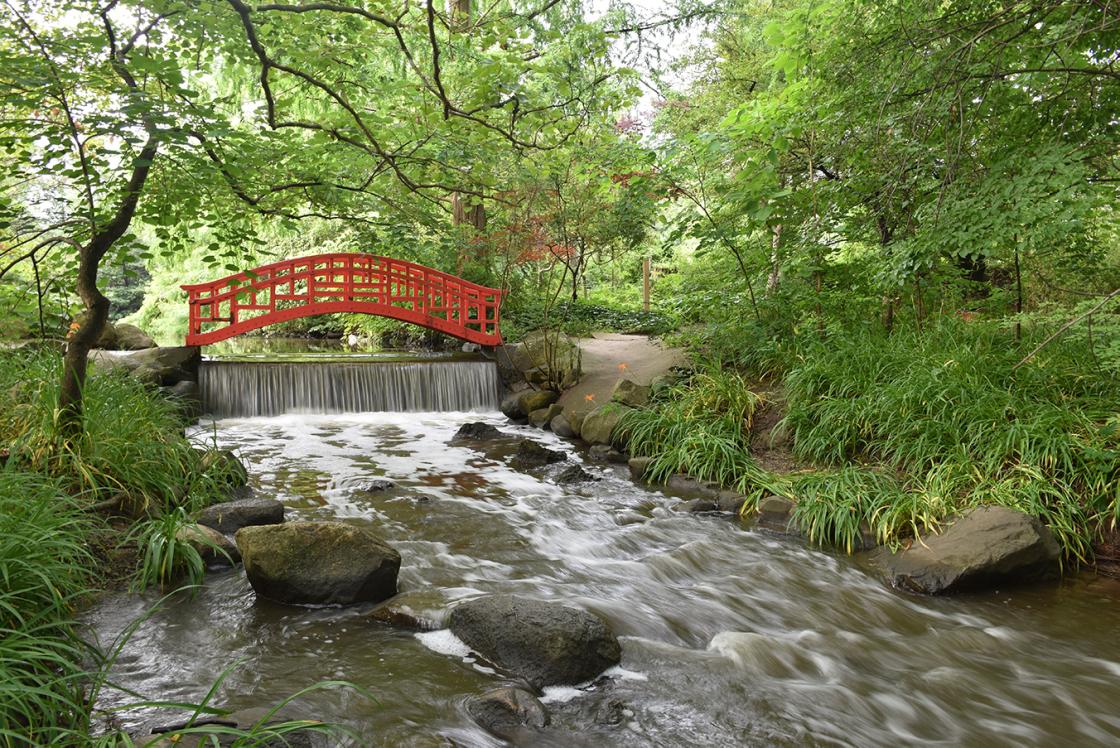 Reflecting Pool Garden
The Reflecting Pool offers a spectacular vista from Cranbrook House to Cranbrook Art Museum. Garden beds on the north and south sides of the glimmering pool are planted in a formal mirror pattern. The beds on both sides contain Echinacea, Coreopsis, False Lupine, Blackberry Lily, and Balloon Flower. A variety of yellow, orange and white annuals add color. In late summer, orange Praetoria Cannas create a stunning display in front of the peonies.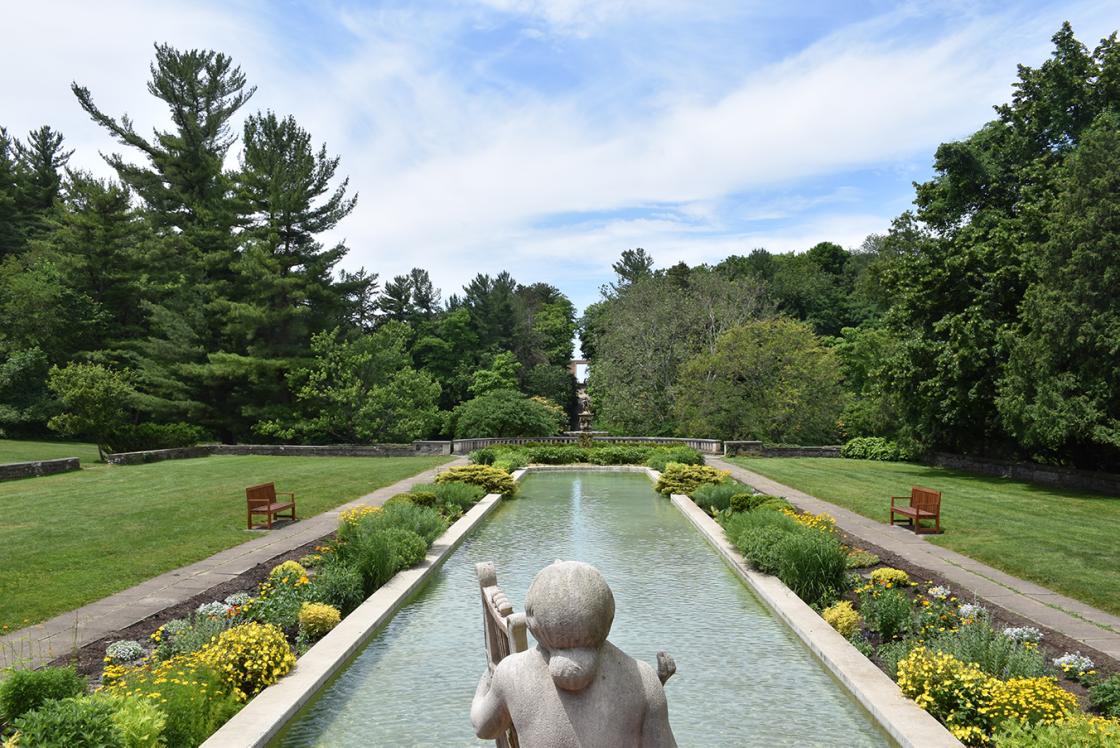 The Mountain/Weeping Zeus
Termed The Mountain by George Gough Booth and Ellen Scripps Booth, this area was built from soil excavated from the basement of Cranbrook House during its construction. To the east of The Fountain of Santa Maria is a sculpture known as Weeping Zeus. Carved of Carrara marble in Italy in the early 19th century, the sculpture actually cries if you step on the right paving stone!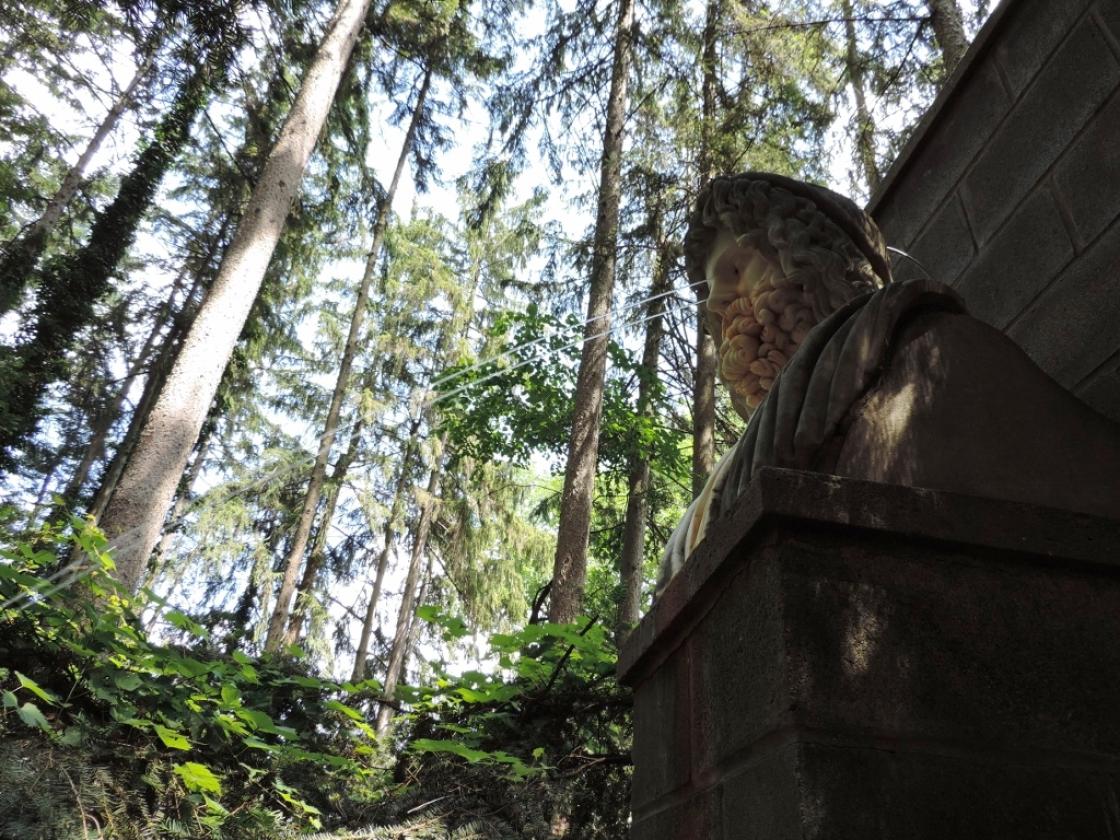 Herb Garden
The Herb Garden has been managed by the Herb Society of America - Southern Michigan Unit since 1971. This garden is planted in a formal English design with different annual herbs each tour season. An old fashion Valarium with its wonderful vanilla scent greets visitors. A Mario Korbel statue of Ecolo, Goddess of Earth, protects the garden.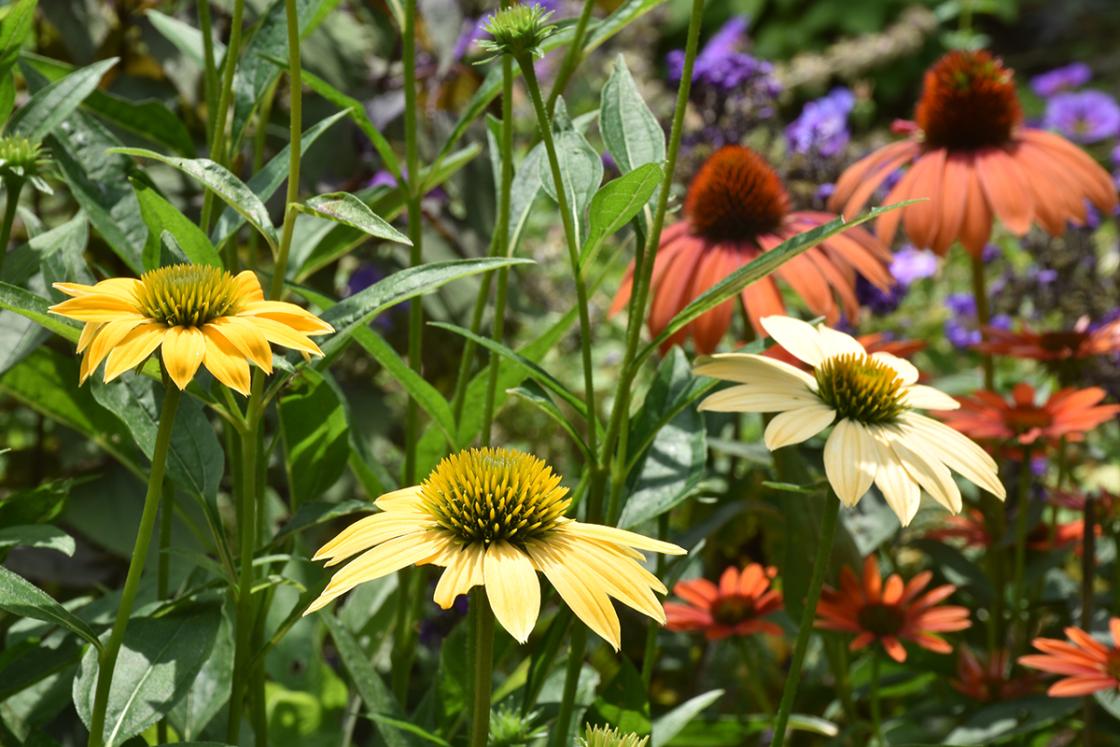 Library Garden
The Library Garden is located on an area west of the Cranbrook House Library. The central garden is called Ellen's Garden, named for Ellen Scripps Booth. Volunteers maintain this garden using Ellen's favorite colors, which were mauves, purples, lavenders, and some pinks. The two gardens to the north and south are planted to complement Ellen's Garden (like bookends). This terrace also features two lead sculptures called The Shepherd and Shepherdess (or The Gardener and His Lady) by English sculptor John Cheere. 
Daffodil Hill
Daffodil Hill was planted by volunteers in the fall of 2015 with 2,000 daffodil bulbs. The garden now features over 4,000 daffodils that are a welcomed sight to see in the spring. Buddleia butterfly bush provides additional interest to the garden in summer and fall.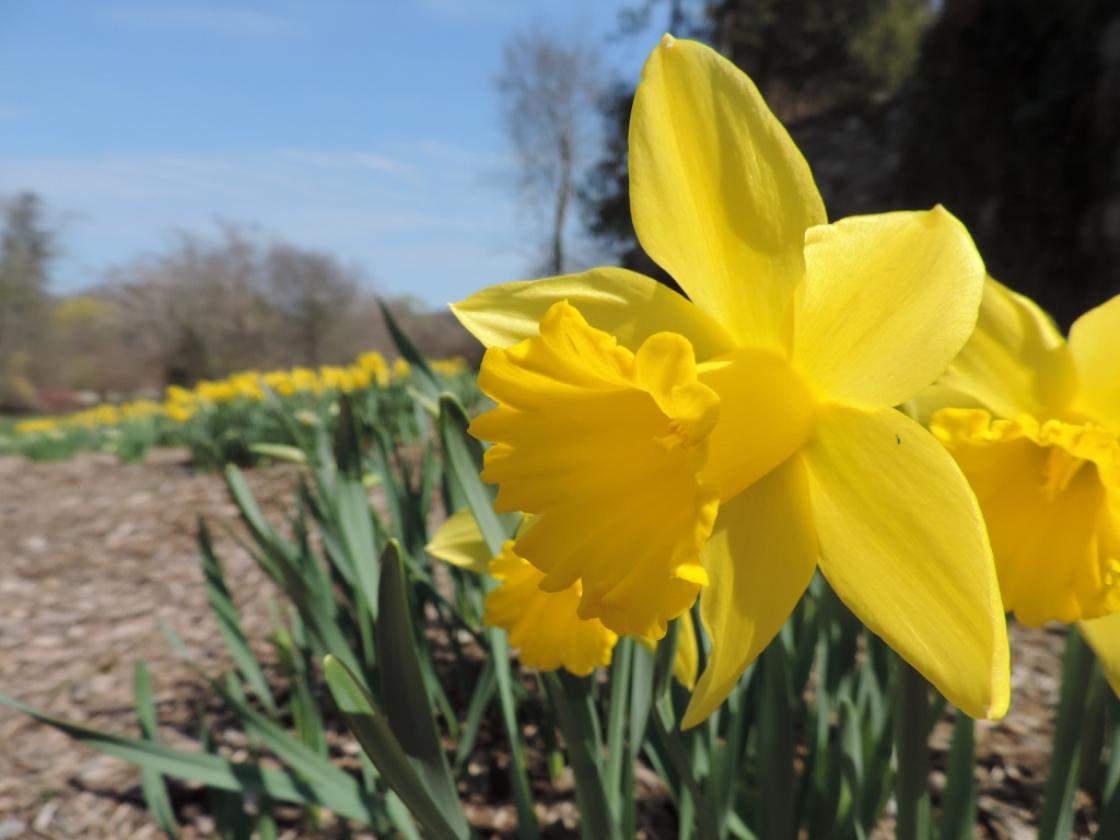 Turtle Fountain
Turtle Fountain is a copy of the Fontana della Tartarughe which stands in a piazza not far from St. Peter's in Rome. There are at least two other known copies of this fountain in the US, one on Nob Hill in San Francisco, California and one in the Ringling Museum in Sarasota, Florida.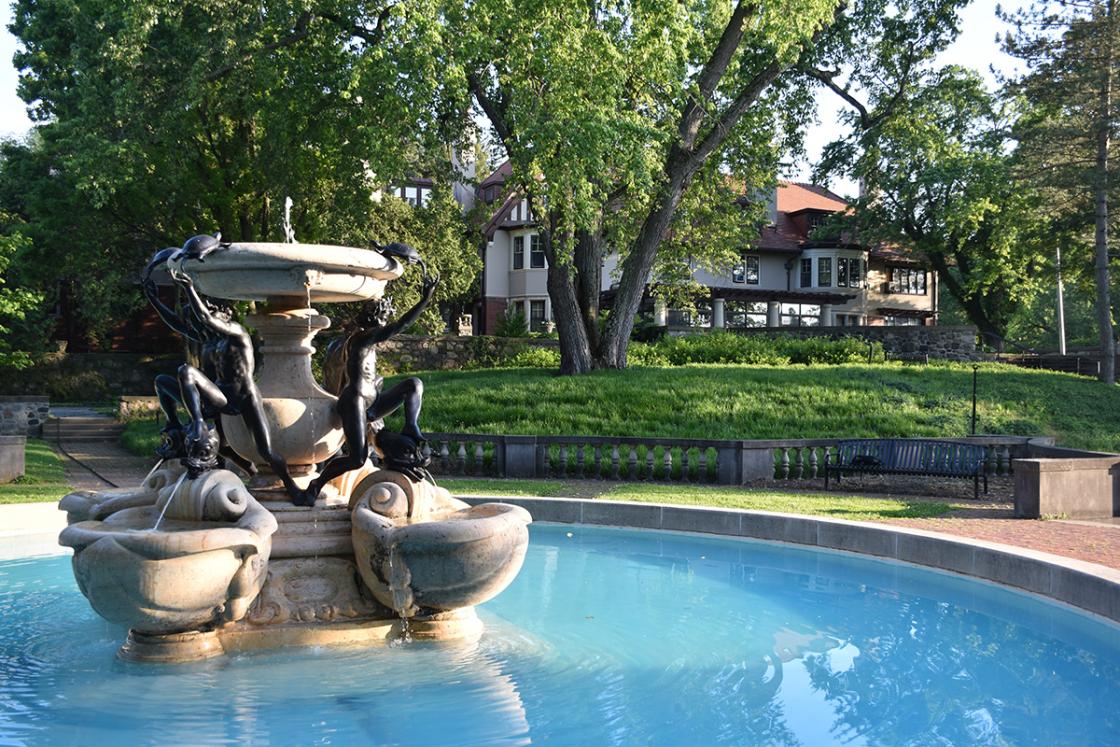 Bog Garden
The Bog Garden is fed by springs and the cascade near the Greek Theatre. It was originally laid out in 1913 and was completely reworked in the late 1980s. More recently, Cranbrook House & Gardens Auxiliary volunteers have cultivated the bog with native species. Daffodils and wildflowers bloom in the spring and the leaf color provides beauty in the fall.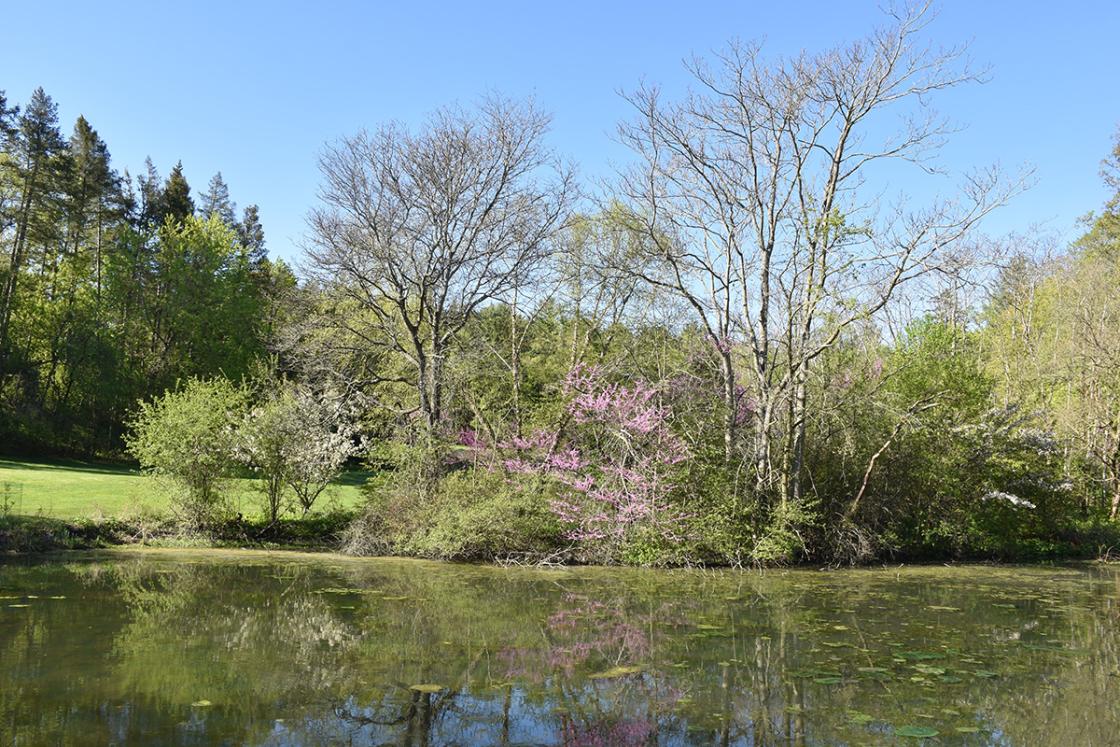 Banyai Hosta Garden
The Banyai Hosta Garden was donated to Cranbrook by the Banyai family of Royal Oak, Michigan. Pauline Banyai was a leading collector and breeder of hosta plants (she registered 40 in her lifetime). Not all Banyai hostas can be purchased today. Some of the most popular hostas in this garden are Gold Standard, Permanent Wave, Blue Chiffon, Lemon Chiffon Tweeny, and Dancing Girl.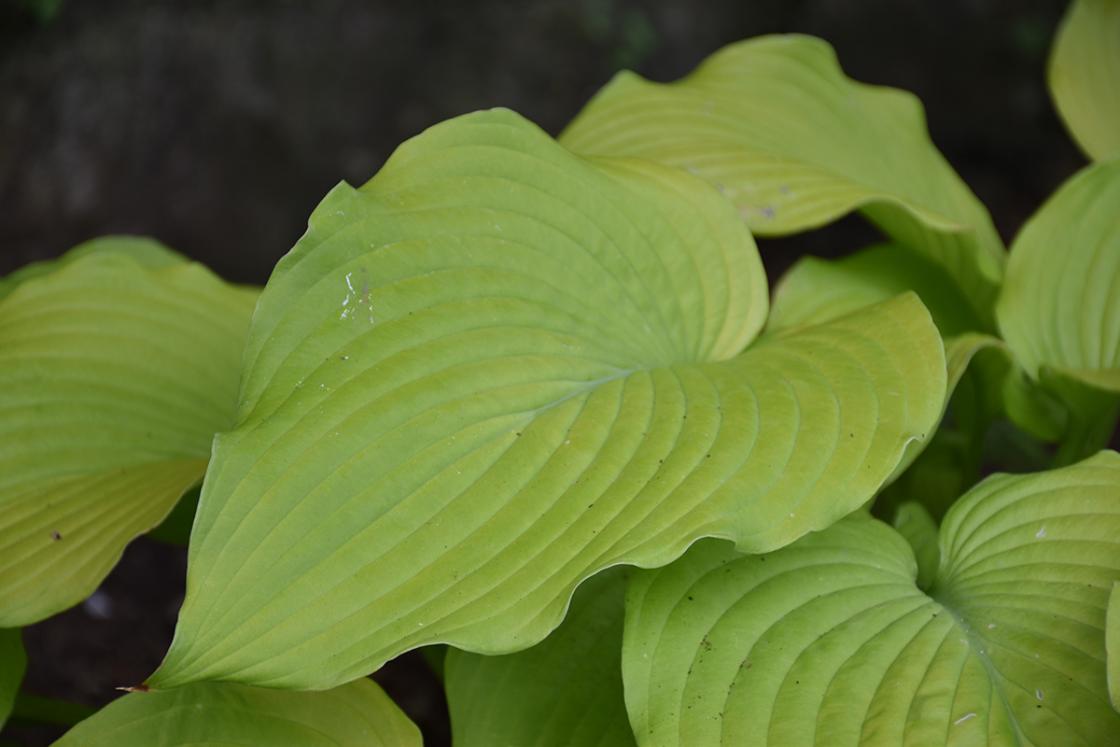 Native Plant Garden
Cranbrook House & Gardens Auxiliary Native Plant/Wildflower Rescue Committee volunteers save legally protected Michigan wildflowers from construction sites. In early spring, the plants are removed from the sites and brought to Cranbrook in preparation for the Annual Spring Plant Sale. Plants not sold are planted in this garden and/or donated to community gardens, schools, and nature centers for all to enjoy.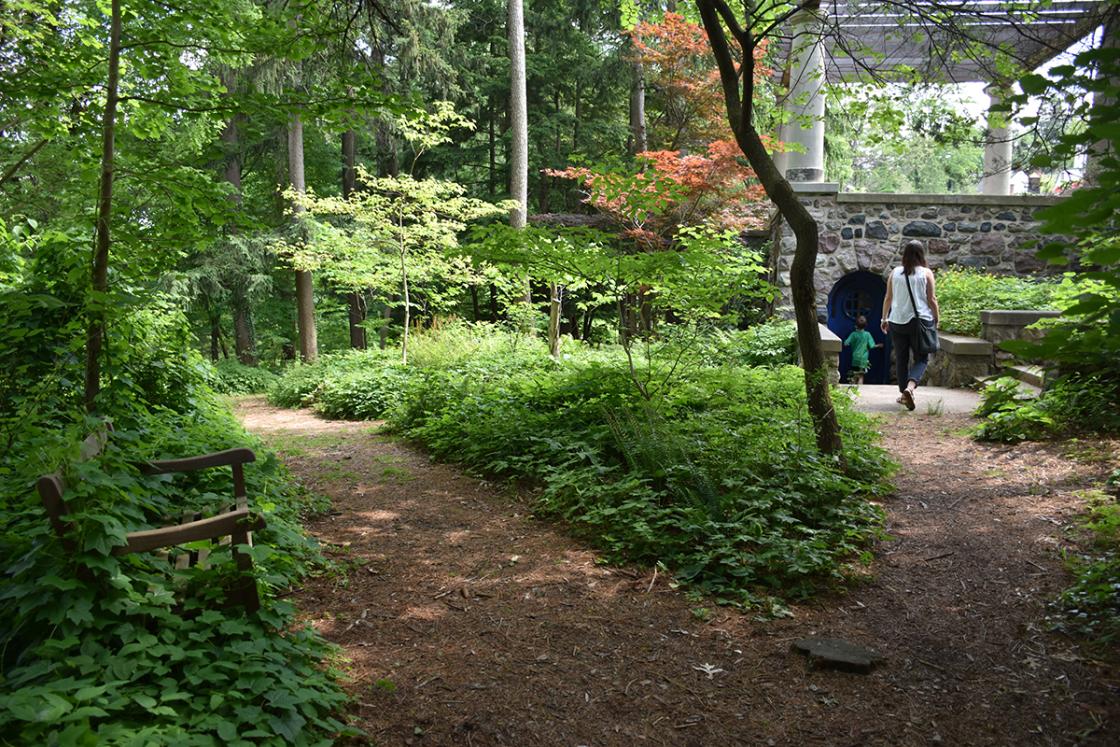 Conifer Hill
This conifer garden was designed and planted in 2012 and took two to three growing seasons to mature. The plants have been carefully placed so as not to obstruct the vista.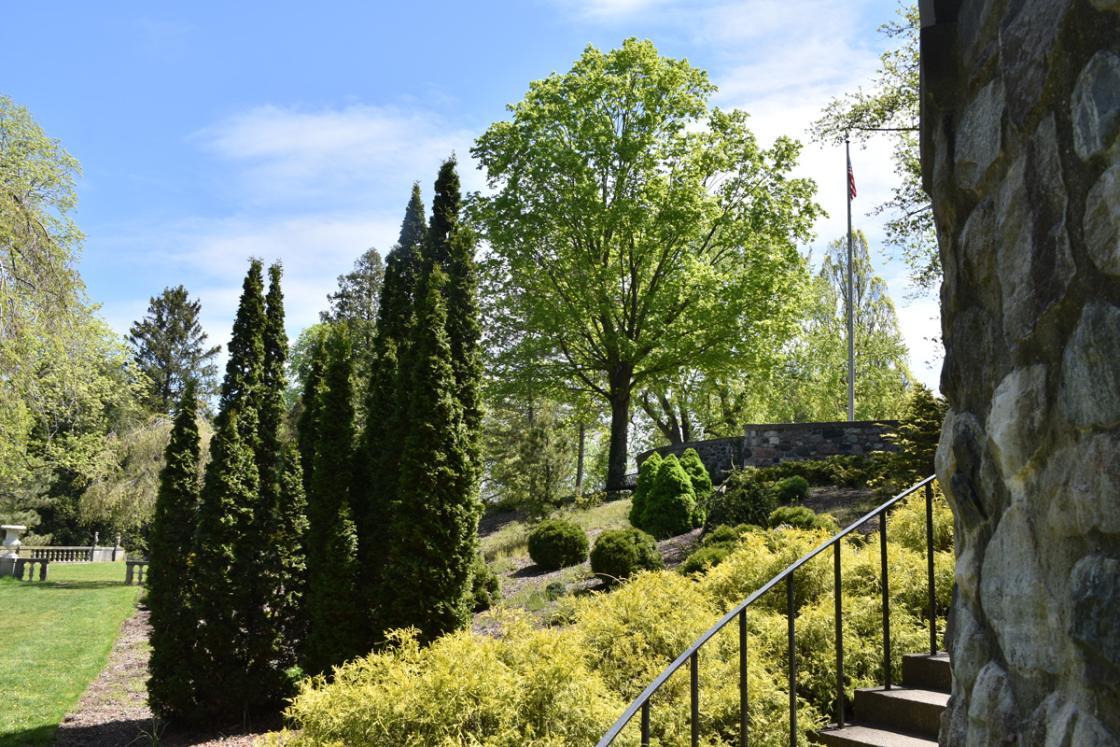 Menelaus Garden
Menelaus Garden was redesigned in 2021 to accomodate new growing conditions (the clearing of the area above resulted in this space going from shady to sunny). The garden is now planted in rose and purple tones--perennials include Nepeta and Monarda. There is a large Japanese Maple. The Viburnum blooms in the spring with wonderfully scented white flowers. Annuals are planted in purple and white tones.