Winter Houseplant Online Sale
Begins Thursday, February 4, 2021 | 9:00am
Public Sale
Begins Friday, February 5, 2021 | 9:00am
Ends Sunday, February 7, 2021 | 11:59pm
Pickup Dates
Thursday, February 11, 2021 – Saturday, February 13, 2021
(Please check your order confirmation email to view your pickup time)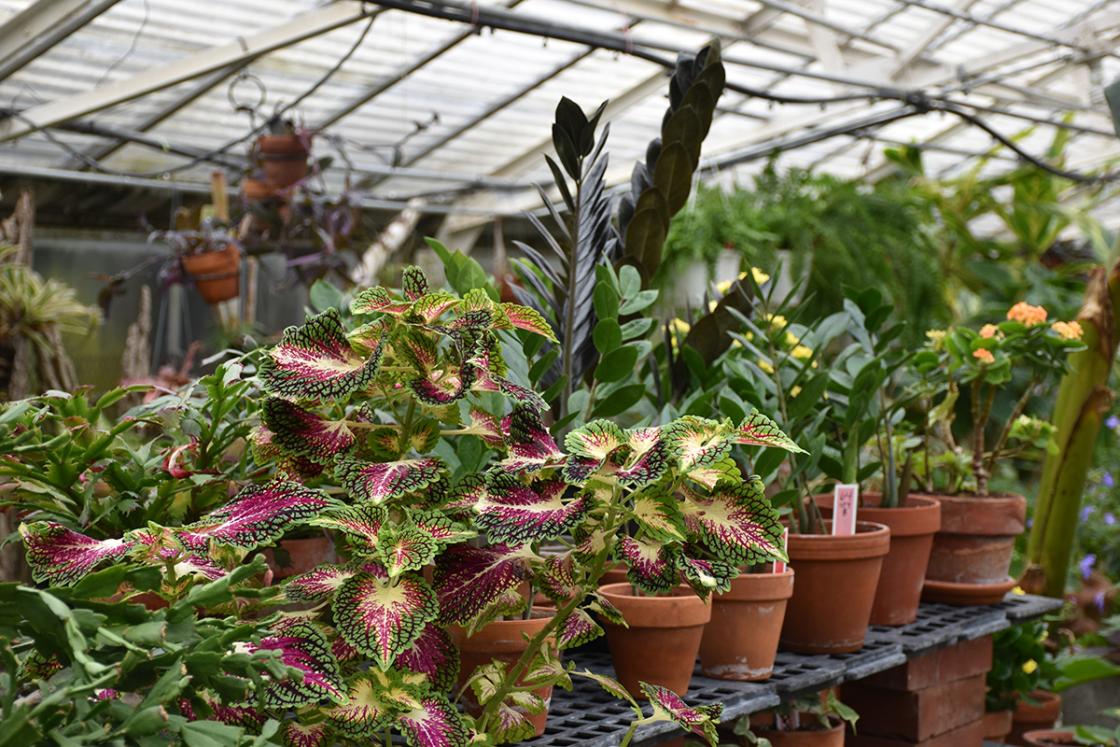 Safely shop online for air plants, begonias, begonias, cacti/succulents, mixed pots, orchids, and other houseplants from our Conservatory Greenhouse. We also have one very special Monstera deliciosa 'Thai Constellation' available (details below). Your plant purchases will be available for curbside pickup the weekend after the sale closes. Shop, pick up, and enjoy – it's that easy!
Please note that the Winter Houseplant Sale schedule and format may be adjusted to ensure the safety of our visitors and volunteers. Plant list is subject to change. Availability is not guaranteed. 
Purchase Plants for Preservation
Every plant purchase helps support Cranbrook House & Gardens. Thank you for supporting the 1908 English Tudor manor, surrounding 40 acres of gardens, and the Conservatory Greenhouse!
How to Shop
Cranbrook House & Gardens Auxiliary members and Cranbrook employees will receive an email with a link to shop on Thursday, February 4, 2021. Click here to become a member. 
We will open the Winter Houseplant Sale to everyone on Friday, February 5, 2021. A link to shop will be sent to everyone who subscribes to our emails (click the RSVP button below to make sure you are on our list) and shared on this webpage.
Email arrival times may vary for each recipient due to variances with internet connections and other factors. We apologize for any inconvenience this may cause.
Magazine Media Sponsor
Monstera deliciosa 'Thai Constellation'
Only one available during our Winter Houseplant Sale!
28" long x 24" wide leaves (approximately)
40" overall height (approximately)
16" diameter pot
$900
Monstera deliciosa 'Thai Constellation' is a trending and highly-desired variety of variegated monstera grown from tissue culture in Thailand. The large green leaves feature dazzling cream-colored accents. This marble coloring is a rare mutation caused by a lack of chlorophyll.
The rare genetics of this plant makes it a unicorn for plant collectors. It was named Favorite New Foliage Plant at the 2020 Tropical Plant Industry Exhibition in Florida.
Our specimen has been growing in the Orchid Room of the Conservatory Greenhouse for at least five years and was just recently discovered to be a Monstera deliciosa 'Thai Constellation.'
This special monstera can make a statement in your home and is sure to become the talk (and envy) of all your plant-loving friends!
We encourage you to become a member to receive early-access to shop for the 'Thai Constellation,' and all our houseplants.