Explore Cranbrook Gardens for Free
Stroll through the Sunken Garden, discover The Mountain and more tree-covered trails, and take a moment to unwind by the Japanese Garden. Enjoy all 40 acres of Cranbrook Gardens - featuring extensive plantings, fountains, statuary, lakes and streams - as they evolve from spring through fall! 
Free Admission* Sponsored by PNC Bank
All Seasons Independent Living, fleurdetroit, and Roberts Restaurant Group
Cranbrook Gardens Hours
Spring (Preseason)
March 14 – May 31
7:00am - 7:00pm
Summer (Tour Season)
June 1 – September 30
7:00am – 7:00pm
Fall/Winter (Off-season)
October 1 – March 13
8:00am - 5:00pm
Winter hours are weather permitting. In the off-season, garden beds will be pulled, restroom facilities closed, fountains turned off, and sculptures may be covered. A notice will be displayed at the top of our website if the grounds are closed due to inclement weather. Fountains are typically turned on in early May.
Please note: Cranbrook House, the Conservatory Greenhouse, and all restroom facilities are currently closed.
Guest Guidelines and Policies
Cranbrook Gardens is a private facility open to the public during the hours above. Please help us remain open and safe for everyone, and the grounds litter and critter free, by following our Estate Etiquette policies and other guidelines below.
Social Distancing
Remain 6 feet apart (about 2 arms' length) from people who don't live in your household. 
Gardeners Working
Some areas may be roped off periodically for the safety of our gardeners while they work. Guests must maintain at least 6' from our staff and volunteers at all times. You may use our Ask a Gardener form to safely submit gardening questions online.
Sunken Garden
When visiting the Sunken Garden, please walk clockwise (if entering from the Service Court stairs, follow the sidewalk north, east, south, west, and back north to return to the stairs) to help ensure social distancing from other visitors. 
Fountains
Due to the financial strain caused by the current pandemic, our fountains and water features will not be running this year.
Restrooms
Please note that our restrooms are currently closed.
Dogs
Dogs and other pets are not allowed at Cranbrook Gardens (except for service animals). Dogs are allowed on the Cranbrook Educational Community campus grounds beyond our gardens and must always be leashed.
Picnicking
Picnicking, sunbathing, smoking, vaping, and drinking alcohol are not permitted.
Photography
Professional photography is not permitted. All portrait photography must utilize one of Cranbrook's approved photographers. For more information on Cranbrook's photography policy and a list of approved photographers, please click here.
Additional Policies
Guests may not enter garden beds; disturb the plant or wildlife; climb on trees, fountains, statues, or walls. To ensure an enjoyable visit, please review our Estate Etiquette webpage before your arrival date.
Cranbrook Gardens Highlights
There are over 20 beautiful gardens surrounding Cranbrook House, all of which are designed, planted, and cared for by Cranbrook House & Gardens Auxiliary members. Keep reading below for an overview of some of these gardens, to see plants currently in bloom, and for links to our map and app. 
Sunken Garden
The Sunken Garden is a favorite of many visitors. Each spring, Cranbrook House & Gardens Auxiliary volunteers create a work of botanical art in this garden through distinctive patterns and color combinations. The beds along the fieldstone walls are planted with a mixture of perennials and annuals, and in 2020, a combination of approximately 4,000 begonias, salvia, and SunPatiens were planted in the four center rows!
Reflecting Pool
The Reflecting Pool offers a spectacular vista from Cranbrook House to Cranbrook Art Museum. Garden beds on the north and south sides of the glimmering pool are planted in a formal mirror pattern. All the beds contain Gaillardia (Blanket Flower) and white Fragrant Lillies. A variety of yellow, orange and white annuals add color. In late summer, orange Praetoria Cannas create a stunning display in front of the peonies. 
Herb Garden
The Herb Garden has been managed by the Herb Society of America - Southern Michigan Unit since 1971. This garden is planted in a formal English design with different annual herbs each tour season. An old fashion Valarium with its wonderful vanilla scent greets visitors. A Mario Korbel statue of Ecolo, Goddess of Earth, protects the garden.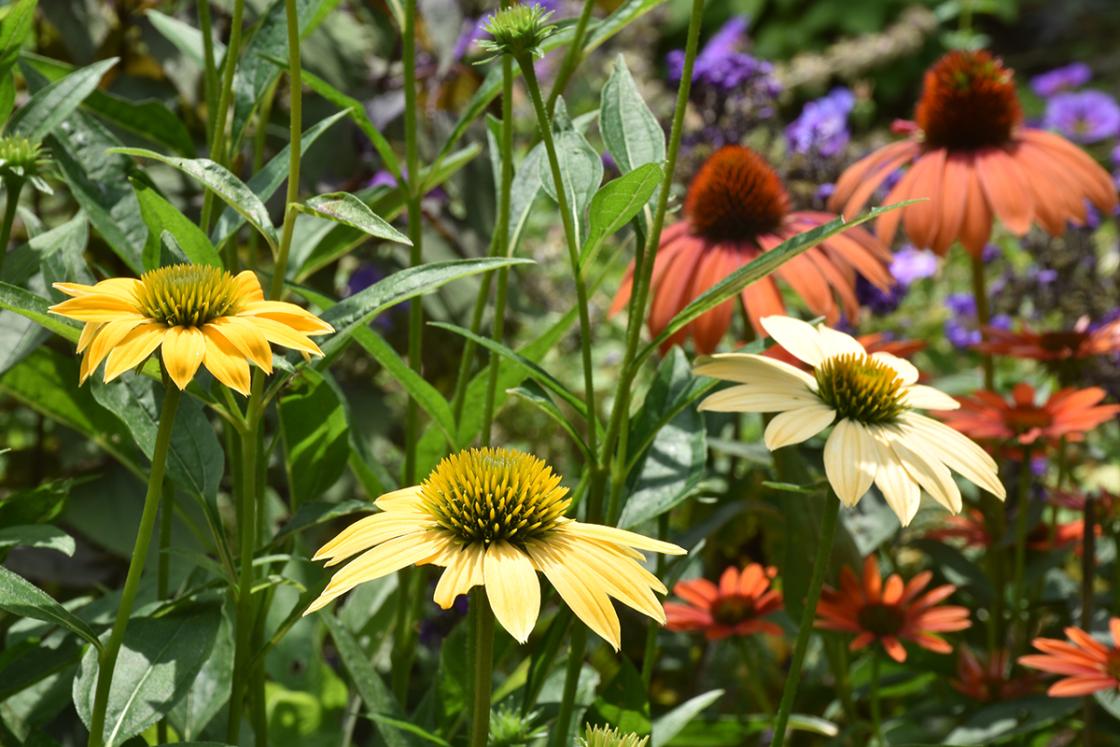 Japanese Garden
One of the oldest Japanese Gardens in North American, Cranbrook's Japanese Garden provides a place of peacefulness and natural beauty. There are many interesting trees and shrubs (including mature Japanese Maples that are spectacular), and large areas of big leaf Petasities, purple Liriope, and some Tree Peonies. To learn more about the history and rehabilitation of the Japanese Garden, please visit the Cranbrook Center for Collections and Research website.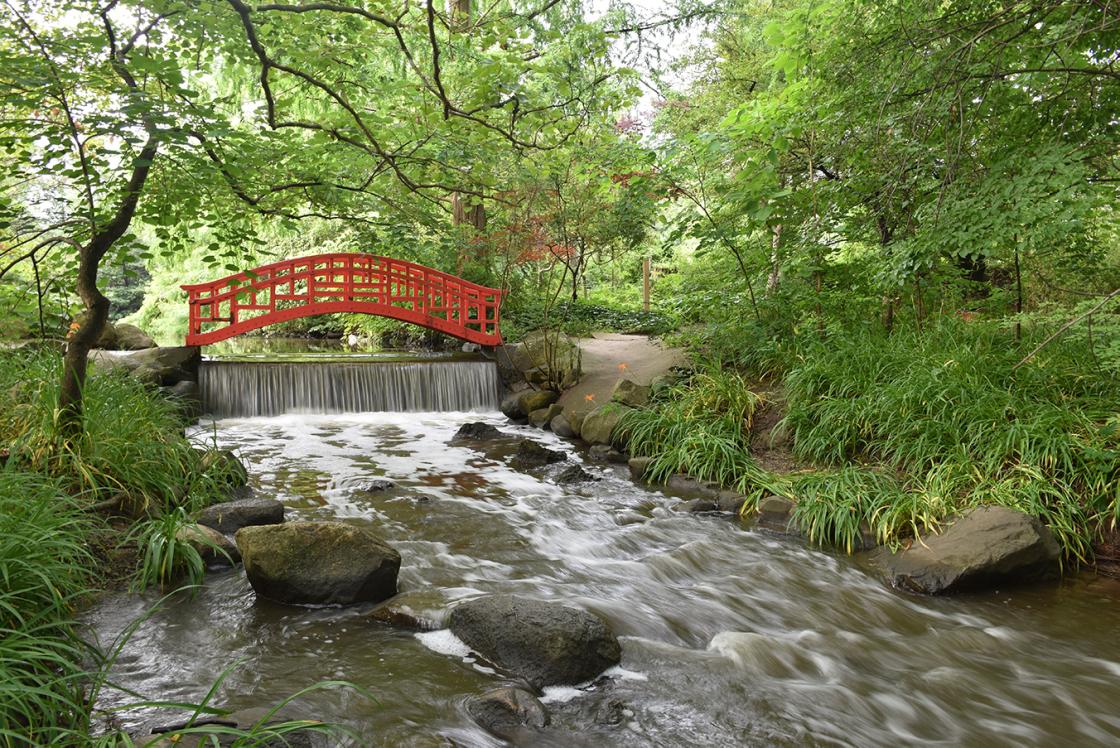 Download the Cranbrook App
Free garden tours, maps, event listings, and more are available at the touch of a finger with the free Cranbrook app. Normal data usage rates apply - we recommend downloading the app before your visit while on a WiFi connection. Download it today!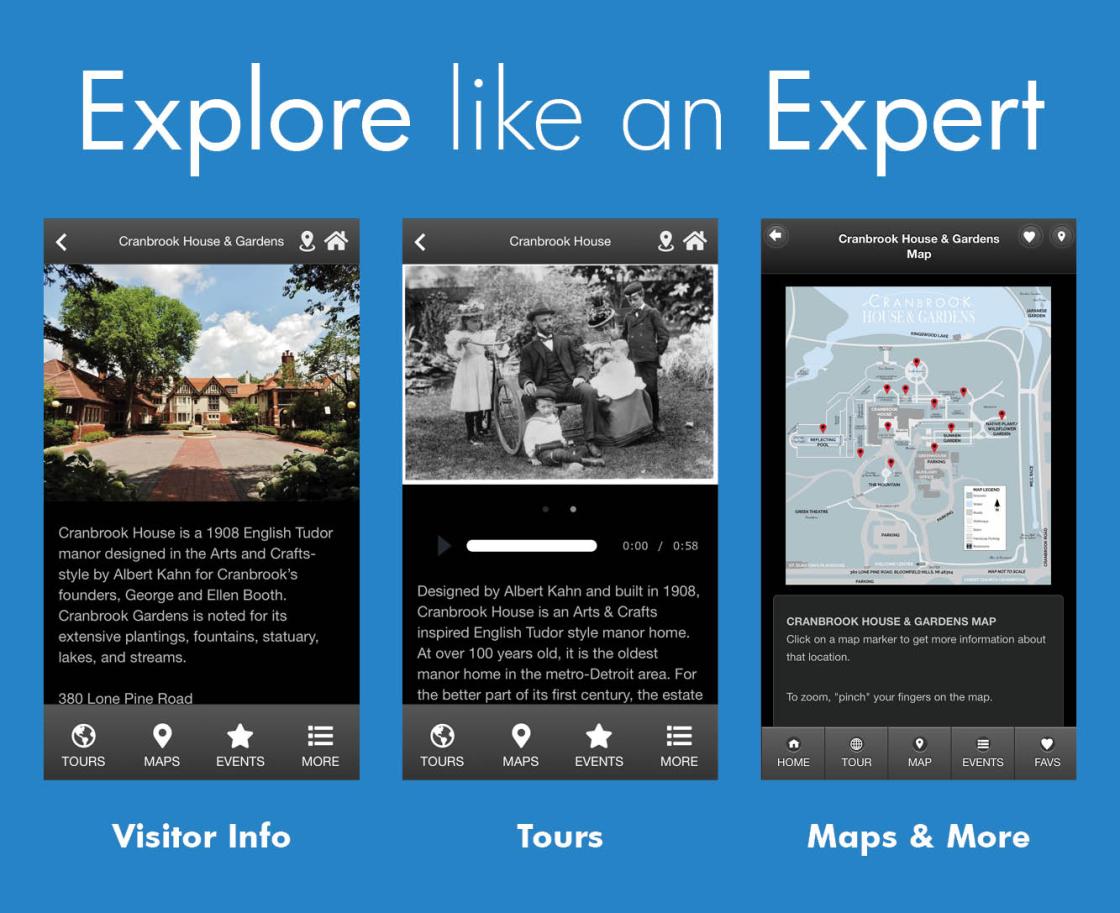 Accessibility
Cranbrook House & Gardens is a historic facility preserved and maintained as closely as possible to its original design. As such, there are certain natural and artificial surface conditions, such as grass, wood chips, stones, stairs, steep slopes and uneven terrain which can make walking and use of a wheelchair difficult. Assistance for persons using wheelchairs or walkers is recommended. Cranbrook Educational Community is a private, non-profit educational community that welcomes individuals to its public areas and is committed to providing reasonable accommodations for those who may require them.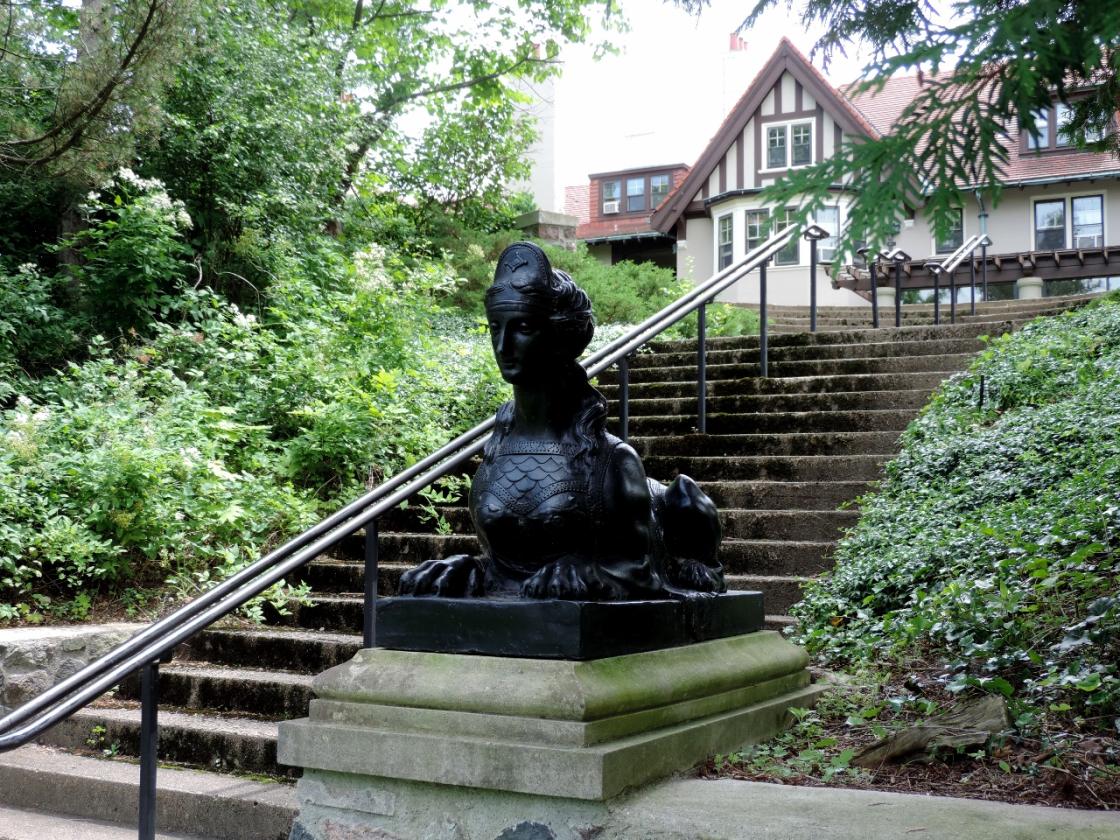 Contact Information
Please contact us at 248.645.3149 or houseandgardens@cranbrook.edu with any questions above visiting or accessing Cranbrook House & Gardens.

*Free admission is for self-guided admission to Cranbrook Gardens. Cranbrook House tours and special events required paid admission. Please visit our Events Calendar and Tour Schedule for pricing and availability.