The 2022 Tour Season has ended. Tours will resume in June of 2023. Please subscribe to our email and follow our social media pages to be notified when tours and special events are being offered. 
Step back in time to a golden era of craftsmanship on a guided tour of Cranbrook House. You will learn about the Booth family and their 1908 English Tudor estate while viewing handcrafted furniture, tapestries, tiles, stained glass, and other works of art. Book your tour today using the links at the end of this page!
Cranbrook House is an Arts and Crafts-style masterpiece designed by renowned Detroit architect Albert Kahn. It served as the family home of George Gough Booth and Ellen Scripps Booth, the visionary couple that founded Cranbrook Educational Community, for over 40 years. 
For the well-being and enjoyment of everyone on the tour:
Face coverings are optional while inside Cranbrook House. 
We recommend guests be at least 13 years old.
Doors to Cranbrook House open 15 minutes before the tour.
The tour will begin promptly and late entry is not permitted.
Please stay home and reschedule your tour if you are not feeling well. 
We may update our policies as we near the tour. Changes will be posted here and communicated by email to all registered guests. This information was last updated May 11, 2022.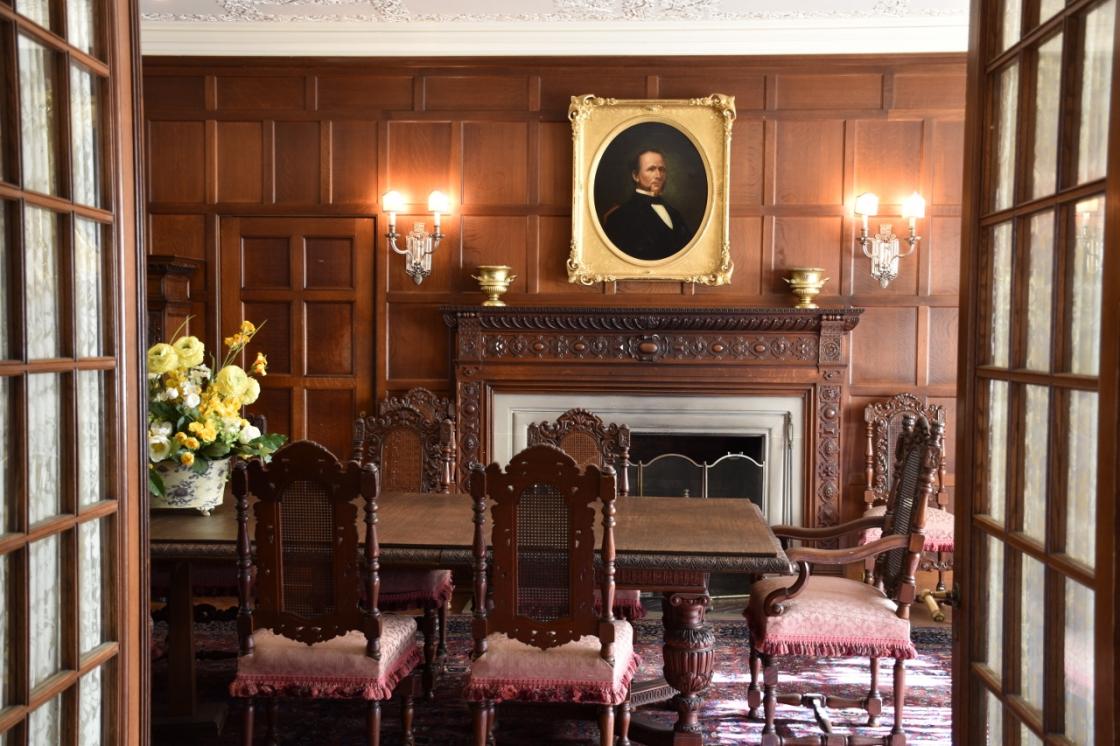 Accessibility
Cranbrook House & Gardens is a historic facility preserved and maintained as closely as possible to its original design. Please click here for more information on accessibility.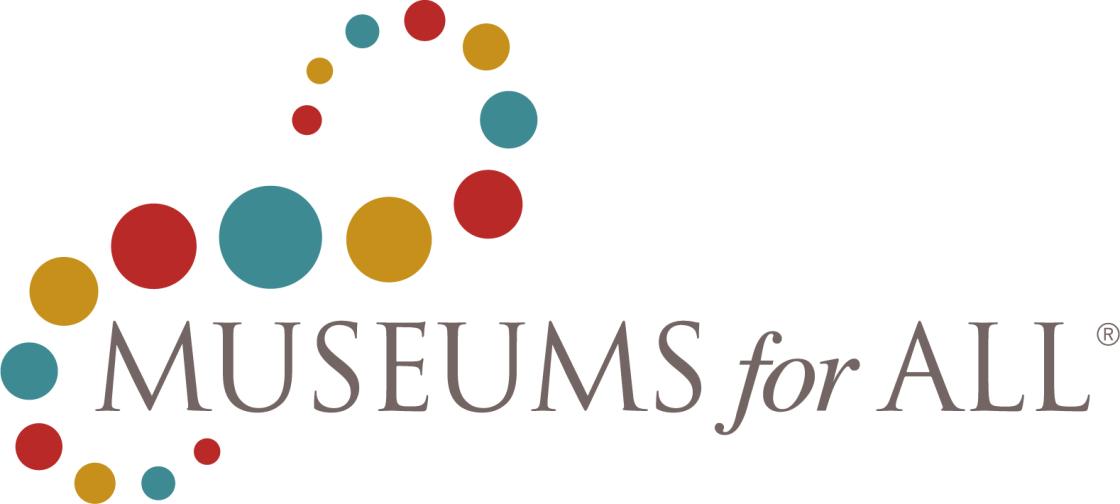 Admission
Adults: $20
Seniors (60+), Students, Active Duty Military, First Responders, Healthcare Professionals (with ID): $15
Cranbrook House & Gardens Auxiliary Members, Explore Cranbrook Members, AHS RAP Members (reciprocal benefit applies to two people for dual or household memberships), and Cranbrook Educational Community Employees: Free
In partnership with Museums for All, Cranbrook House tours are free for those receiving food assistance (SNAP benefits). Please register online and show your EBT (Michigan Bridge) card when you arrive to receive free admission for you and up to three guests.  
How to Register
Booking tours in advance online is encouraged. Please click the button at the bottom of this page to reserve your Cranbrook House tour. A limited number of spaces may be available at the door and may be purchased by credit card or with exact cash the day of the tour.
Location and Parking
Cranbrook House & Gardens
380 Lone Pine Road
Bloomfield Hills, MI 48304
Parking is available onsite in our main lot. Additional parking is available on Lone Pine Road. Accessible parking is available just south of the Cranbrook House Courtyard. Parking is permitted in marked areas only.
When You Arrive
Doors to Cranbrook House open 15 minutes before the tour begins. Only registered guests will be permitted inside. Entry will not be permitted after the tour begins.
Please provide the docent with the name you used to register to verify admission. There are no tickets for this event. You do not need to print your confirmation (we recommend having it available on your mobile device for reference).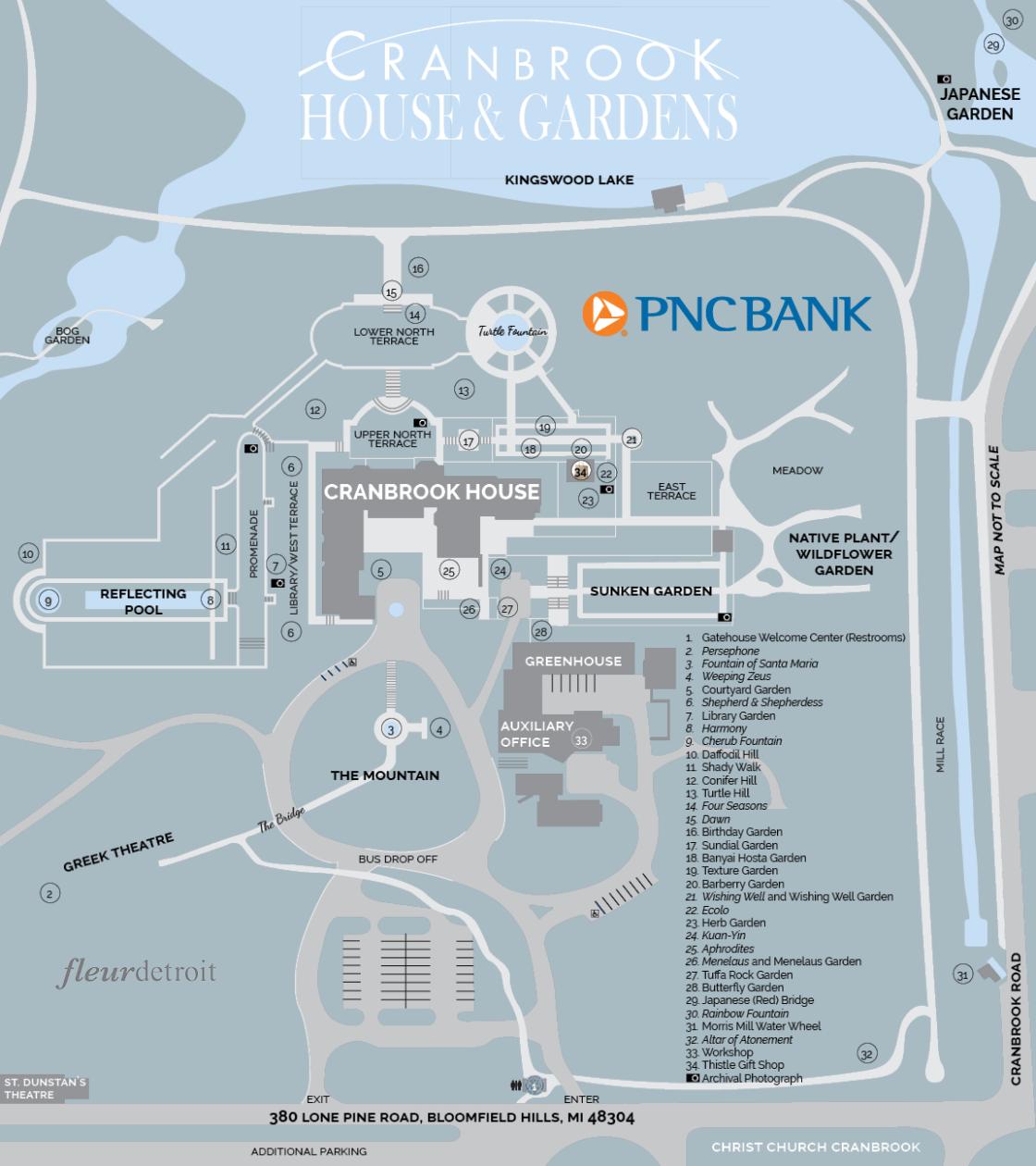 Restrooms
Restrooms are available in the lower level of Cranbrook House for tour guests only. 
Photography and Other Guest Policies
Photography is permitted for amateur use only. No special equipment or tripods may be brought on the tour. Please review our photography, pet, and other guest policies on our Estate Etiquette page prior to your tour to ensure an enjoyable visit. Thank you for helping us remain open and safe for everyone by following our policies.
Refund Policy
Guests will receive a refund if a tour is canceled by Cranbrook. We will post a notice at the top of our website if the Cranbrook House tour is canceled. All efforts will be made to post the alert at least an hour before the tour begins. Tours are otherwise nonrefundable. 
Cranbrook House & Gardens Auxiliary
Tours of Cranbrook House are provided by Cranbrook House & Gardens Auxiliary volunteers who have completed an extensive docent training program. Cranbrook House & Gardens Auxiliary is dedicated to the restoration, preservation, and maintenance of Cranbrook House & Gardens. We welcome you to become a member.  
Additional Information
Tours feature 12 rooms on the first floor of Cranbrook House including the Library, Oak Room, and Mr. Booth's Original Office. Please contact us at 248.645.3149 or houseandgardens@cranbrook.edu with any questions. 
Upcoming Cranbrook House Tour Dates
Tours are offered June through October. Our 2023 Tour Season schedule will be posted in the spring.
Cranbrook House Tours with Tea or Lunch
See website for schedule and pricing
Complete your tour with tea or lunch in the charming manor on select dates. Reservations are required in advance.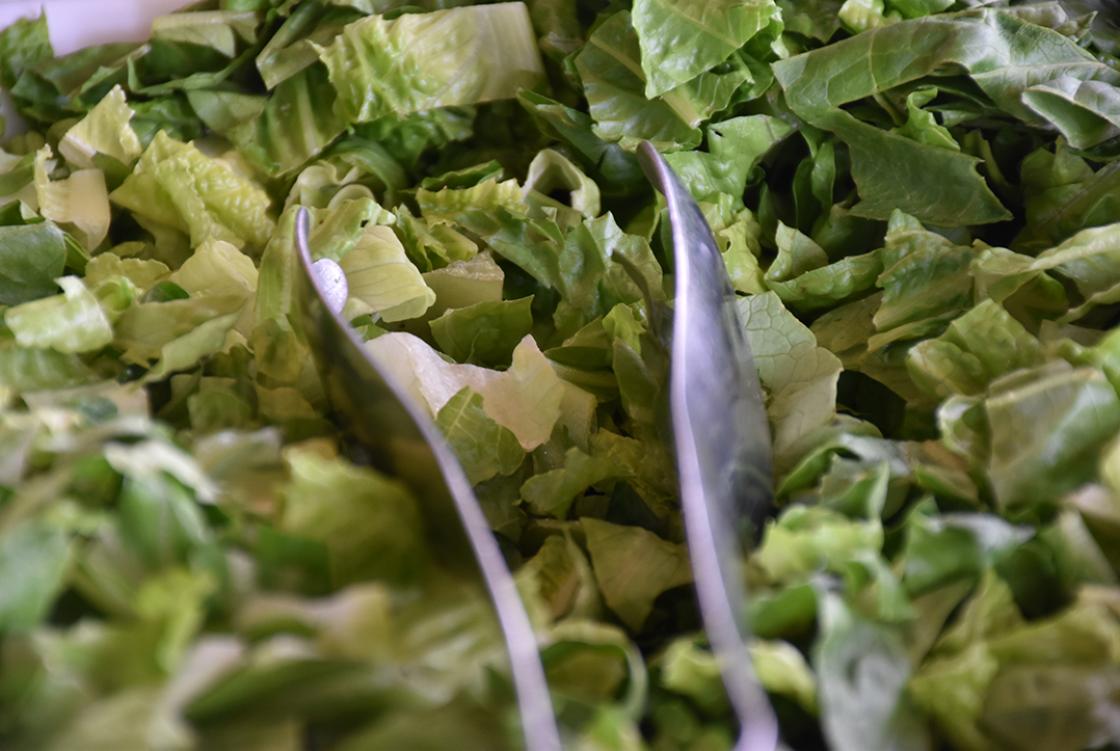 Cranbrook Gardens Tour
See website for schedule
Tour Cranbrook Gardens while learning about the founders of Cranbrook and their remarkable grounds. You'll discover the Greek Theatre, Sunken Garden, and more.
Photo Credits (From Top to Bottom)
Cranbrook House Living Room. Photograph by Eric Franchy. 

Cranbrook House Library. Photograph by James Haefner. Courtesy Cranbrook Center for Collections and Research.

Cranbrook House Dining Room. Photograph by Eric Franchy.