Saturday, August 1st, 2020 |

9:00am

-

10:00am
Connect with nature and improve your well-being during Yoga in the Gardens this summer. Yoga helps increase flexibility, improve balance, and reduce stress, and the beautiful sights, gentle sounds, and calming scents of Cranbrook Gardens provide a serene setting for practice. 
All skill levels are welcome!  
Class Type 
Citizen Standard led by Citizen Yoga instructors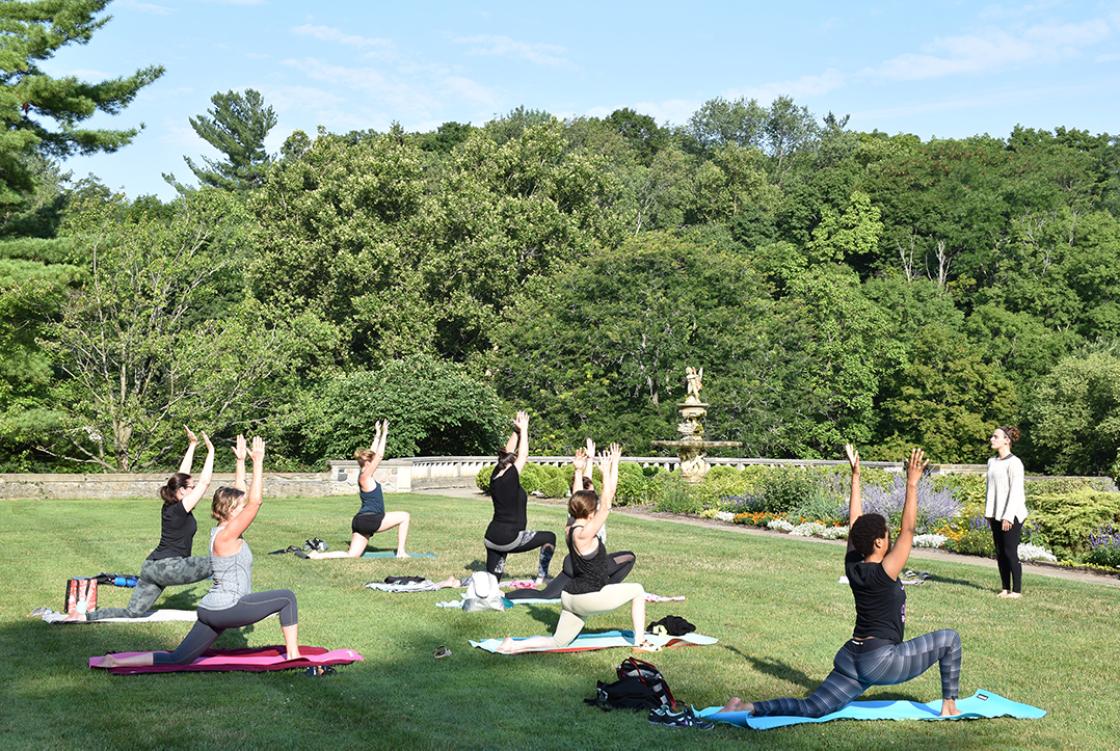 Class Info 
The schedule may need to be adjusted to ensure the safety of our participants, instructors, staff, and volunteers.  
Class sizes will be limited to ensure that there is at least six feet between each participant and spaces will be marked.  
Registration and waivers must be completed in advance online. Drop-ins will not be allowed during the 2020 season.  
Guests are required to wear a face mask to check in and are encouraged to keep them on until the class begins. 
Yoga instructors will not be providing any participant adjustments.  
Please do not come to class if you are not feeling well, if you are experiencing any symptoms of COVID-19, or if you have recently had close contact with a confirmed or probable COVID-19 case.  
For our refund policy, rain policy, and more class info, please read our YOGA IN THE GARDENS FAQ before registering.  
 
Admission 
General Admission: $15/class 
Cranbrook House & Gardens Auxiliary Members: $10/class
Cranbrook Educational Community Employees: $10
Citizen Yoga Founder's Club Members: $10/class
Registration | Waiver & Photo Release
Online registration is required by Friday at 12:00pm before each class. Please click the link at the bottom of this page to register. Each guest must also submit a waiver by the registration deadline. 
Click here to submit your waiver and photo release form.
Check-In at the East Terrace 
Please arrive 15-20 minutes early to check in. We will simply need the name provided on your registration to check you in (please remember to wear a mask and remain six feet away while checking in).  
The class will meet at the East Terrace. Click here for a map of the estate.  
Contact Information 
Please email Eric Franchy at efranchy@cranbrook.edu with any questions or concerns. Emails received after 12:00pm on Friday may not be received until the following work week.
Magazine Media Sponsor


Registration for this event has closed.