Tuesday, July 30th, 2019 |

10:00am

-

1:30pm
Take a "behind-the-beds" look at the plants at Cranbrook Gardens during this tour led by Cranbrook House & Gardens Auxiliary volunteer gardeners, learn about invasive identification/management and root division/transplanting during two demonstrations, and enjoy a box lunch in historic Cranbrook House. 

Cranbrook House & Gardens Auxiliary volunteers design, plant, and maintain the gardens.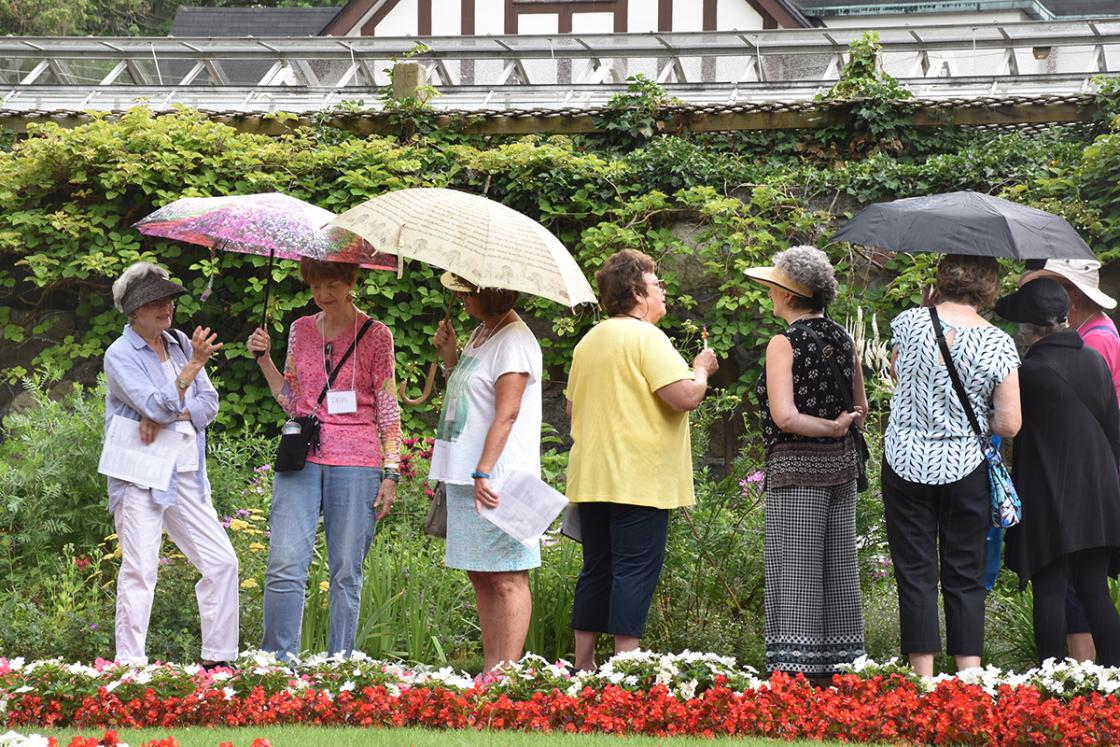 ITINERARY    
Check in at the Gatehouse Welcome Center | 9:30am – 10:00am 

Cranbrook Gardens Tour and Demonstrations | 10:00am – 12:00pm
Investigating Invasives: Identification and Management
Sue Greenlee, Cranbrook House & Gardens Auxiliary Gardener

All About Roots: Tips for Division and Transplanting 
Judy Jacobs, Cranbrook House & Gardens Auxiliary Gardener

Box Lunch followed by Q&A | 12:00pm
Club Wrap
Turkey, applewood bacon, lettuce, tomato, mayo

Italian Wrap
Prosciutto, capicola, salami, pickled veg, lettuce, tomato, asiago

Veggie Wrap
Chef's selection of grilled vegetables, boursin cheese

Included with your wrap selection is an orzo salad (kalamata olive, feta, tomato, cucumber, pepper), bag of chips, fresh baked chocolate chip cookie, bottled water, and bottled ice tea. 

Admission
General Admission: $35
Cranbrook House & Gardens Auxiliary Members: $30

Reservations are required by Tuesday, July 23, 2019 at 12:00pm as space is limited. Please click the REGISTER FOR THIS EVENT button at the bottom of this page or call 248.645.3149 to reserve your place on this tour of Cranbrook Gardens. The tour will proceed rain or shine. Admission is non-refundable. 

Location
Cranbrook House & Gardens
380 Lone Pine Road, Bloomfield Hill, MI 48304

Parking is available onsite at Cranbrook House & Gardens. Please check in at the Gatehouse Welcome Center. 
Click here for an Estate Map

Photography
We encourage guests to take pictures during their visit to Cranbrook Gardens and tag us on Facebook, Twitter, and Instagram. Photographs must be for personal use only. Tripods and other photography equipment are not permitted. Please click here for more info on Cranbrook's photography policy. While on the grounds, visitors may be photographed by Cranbrook House & Gardens photographers for use in promotion of events like these. 

Accessibility
Cranbrook House & Gardens is a historic facility preserved and maintained as closely as possible to its original design. As such, there are certain natural and artificial surface conditions, such as grass, wood chips, stones, stairs, steep slopes, and uneven terrain which can make walking and use of a wheelchair difficult. Assistance for guests using wheelchairs or walkers is recommended. 

Additional Information
The tour will start promptly at 10:00am. Please arrive 15 to 20 minutes early to allow time to park and check in. This is an outdoor walking tour. Guests are encouraged to check the weather forecast and dress comfortably for the conditions. 

Please contact us at 248.645.3149 or houseandgardens@cranbrook.edu with any questions. 
Registration for this event has closed.