Thursday, November 2nd, 2017 | 7:00pm
Pierre Fracalanza's dancing fingers will delight guests with a selection of songs on the Cranbrook House 1929 Steinway Concert Grand Model D piano accompanied by a Steinway SPIRIO player piano. The 60-minute dueling piano concert will cover a variety of musical genres from the last century. Pierre, a pianist and vocal artist, will complement his performance with a visual presentation - that will include some archival and recent Cranbrook photographs, among others - corresponding to the piece he is playing.

The concert will take place in the Cranbrook House Library.
Doors open at 6:30 pm. 
Admission
General Public: $35 per person
Cranbrook House & Gardens Auxiliary Members: $30 per person

Advance registration is required as seating is limited. To make a reservation, please call 248.645.3149 or register online through the link below. All registrations are final - no refunds. 
About the Artist
Pierre Fracalanza has been a notable entertainer in the Greater Detroit Area for many years. Educated at the Eastman School of Music, Pierre actually began playing piano and organ at the age of three. By the age of sixteen, Pierre was Organist/Music Director of a church. As a piano/vocal entertainer, Pierre appeared in such Detroit spots as the Caucus Club, Dearborn Inn, Francesco's, Ritz Carlton, Hyatt Regency, and Chez Raphael. Pierre was the opening act for Carol Channing at the Macomb Center for the Performing Arts. He also made many appearances for civic and public figures including then First Lady, Hillary Clinton, Senator Ted Kennedy and the National Governor's Conference.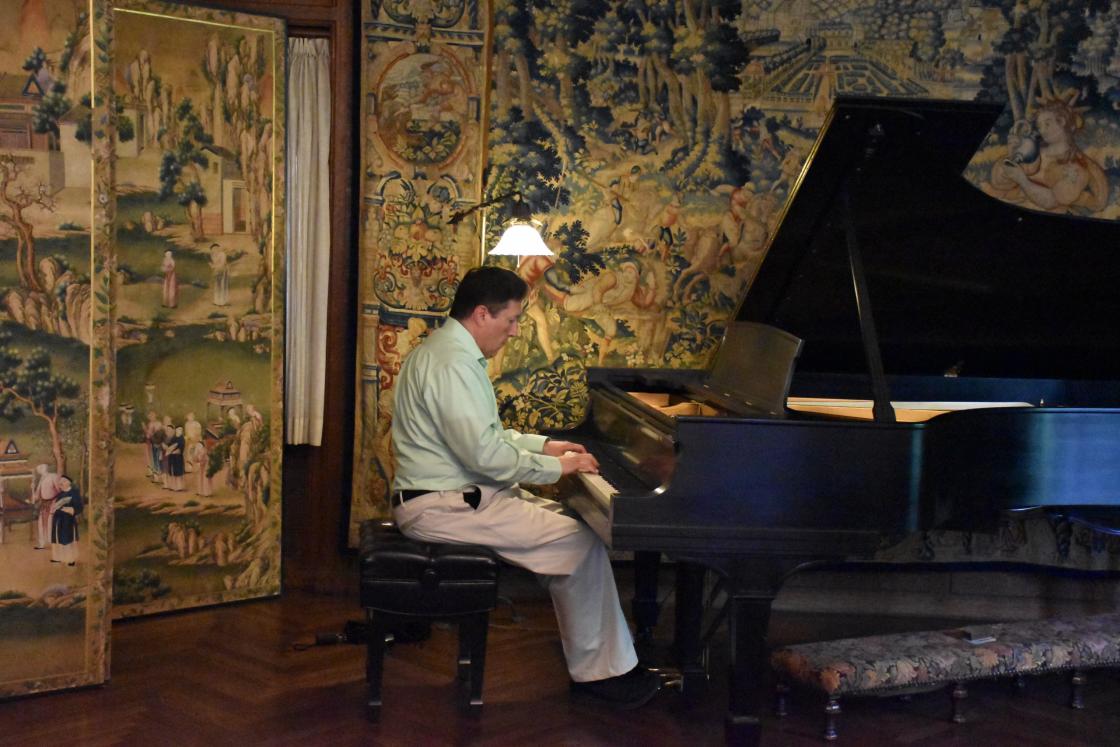 Pierre has been quite active with electronic music technology ever since the modern player piano was developed in the early nineties. As Staff Artist for Hammell Music, he continued his work demonstrating the latest trends in piano. Pierre continues that trend with the Steinway Gallery of Detroit.

Pierre also concertizes on the theatre organ, performing for theatre organ clubs around the country. These organs, which once filled the movie palaces of the Twenties, now are preserved and maintained in smaller theaters, high-school auditoriums and even large homes.

In 2012, Pierre became a member of the Steinway Artists Roster, a list of pianists who have exemplified the ideals of the Steinway & Sons Company throughout their careers. Pierre is currently Organist/Music Director of the three-thousand-family parish of St. James Catholic Church in Novi.
About the Steinway Spirio Piano
"The Steinway SPIRIO is a new high-resolution player piano that provides an unrivaled musical experience, indistinguishable from a live performance...At the touch of the iPad provided with the Steinway & Sons SPIRIO, the SPIRIO app connects you to hundreds of performances, bringing your Steinway grand piano to life. This exclusive SPIRIO library…features everything from J.S. Bach to Irving Berlin to Billy Joel, and unlocks the furthest reaches of the instrument's expression, regardless of your playing ability." -Steinway & Sons 

By special arrangement with Steinway & Sons, attendees will have an opportunity to see Steinway's new re-performance piano, SPIRIO, up close following this evening's performance. A new Steinway SPIRIO Piano will be offered for sale to anyone in attendance and Steinway Gallery of Detroit has agreed to make a very generous donation to the Cranbrook House & Gardens Auxiliary if a piano is purchased.