Holiday Splendor: Trains & Trees
An annual fundraiser benefitting Cranbrook House & Gardens, part of the Cranbrook Educational Community's National Historic Landmark campus.

Holiday Splendor 2017
Friday, December 1, 2017 | 10:00 am - 4:00 pm
Saturday, December 2, 2017 | 12:00 pm - 4:00 pm
Sunday, December 3, 2017 | 12:00 pm - 4:00 pm

Holiday Splendor + Santa Sighting 2017
Saturday, December 2, 2017 | 9:00 am - 12:00 pm
Celebrate the magic of the season as you explore Cranbrook House, decorated with one-of-a-kind classic and contemporary trees, trains, and other holiday settings that are sure to inspire. Shop our gift shop for Cranbrook mementos and other items perfect for personal use and gifts of any occasion. Bring the entire family out and make it a holiday tradition!
General Admission
General Public: $20 each
Cranbrook House & Gardens Auxiliary Members (join now): $15 each
Children (5-10): $10 each
Children (4 and under): Free

Please note: Children must be accompanied by an adult to visit Holiday Splendor. Admission is non-refundable.
Santa Sighting Admission
Includes same day access to Holiday Splendor
Adults: $15 each
Children (10 and under): $10 each

Please note: Adults must be accompanied by a child to visit the Santa Sighting. Admission is non-refundable.

Registration
Reservations are available online through the links at the bottom of this page or by calling 248.645.3149. Advance reservations are required by Thursday, November 30 at 12:00 pm for the Santa Sighting.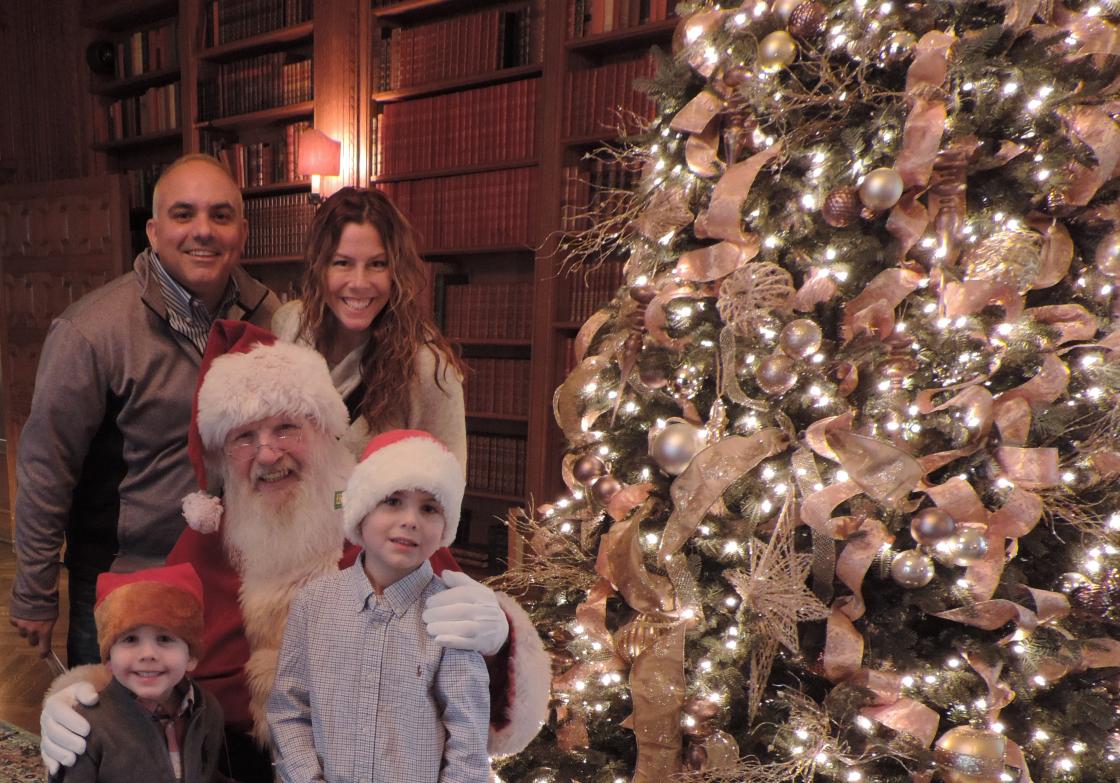 This is a non-ticketed event. Please present proof of purchase (help us go green - show your order confirmation on your mobile device instead of printing it out) at the check-in station during the event.

Mittens for Detroit Collection
Cranbrook House is proud to serve as a Mittens for Detroit collection site during Holiday Splendor. Mittens for Detroit, Inc., is a nonprofit with the purpose of collecting, purchasing, and distributing new mittens and gloves to children and adults in need in Detroit, and other underserved cities. Please consider bringing a pair of new gloves or mittens to donate.

Parking
Cranbrook House & Gardens is located at 380 Lone Pine Road, Bloomfield Hills, MI 48304. Parking is available at no cost onsite and across the street at Christ Church Cranbrook. Shuttle service will be provided from the Christ Church Cranbrook parking lot to Cranbrook House. There will not be a shuttle during the Santa Sighting.

Media Sponsor


Saturday, December 2, 2017 | 9:00 am - 12:00 pm
Children and their families are invited to visit with Santa Claus in a charming, historic setting when he stops by Cranbrook House. Each child will receive a free holiday gift from Santa and his helpers before they leave!
Photography Policy
Guests are welcome to take photos inside Cranbrook House for personal use only. Professional photography is not provided for the Santa Sighting. Tripods, flash, and other photography equipment are not permitted.

Visitors may be photographed during the event by Cranbrook House & Gardens photographers. All photos taken by Cranbrook House & Gardens photographers become the property of Cranbrook House & Gardens and may be used for the purpose of promoting Cranbrook House & Gardens and the Cranbrook Educational Community.